Tag: San Francisco
by Seba on Feb.17, 2013, under Performances
I remember the first time I saw the Belly Dance Super Stars.
It was years ago at a small club in San Francisco.  I'm pretty sure it was the first time that they toured.  I was so excited.   I had only been belly dancing a couple of years and had just been asked to join the local troupe and most of the troupe went to the city to watch the show.  I had only attended hafla's and festivals and had never watched a professional belly dance show and my jaw was on the floor the entire time.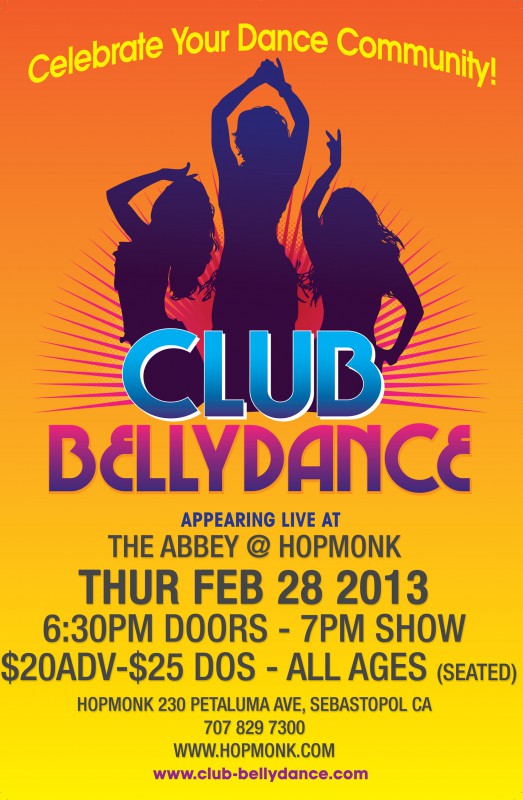 Rachel Brice and the Desert Roses, Dondi MCing, amazing new fashion of Melo's being showcased by the tribal stars and the local guest troupe that had been asked to perform, FatChanceBellyDance®, was the cherry on top.  In the years that followed I went to as many of the Belly Dance Super Stars shows as I could.  I bought the CD's and DVD's and followed the careers of some of the dancers as they became internationally famous.
Miles Copeland knows how to keep things  fresh and new.  While Belly Dance Super Stars still occasionally tours, Miles has now created Club BellyDance.  It's an event that is geared towards local clubs and venues showcasing local dancers for the first half of the show and the second half of the show is, you guessed it, Belly Dance Super Stars.
The Show at Hopmonk
WildCard BellyDance was excited when we realized that Club BellyDance was coming to our area and we were thrilled when Nathalie Tedrick asked us to dance in the first half of the show.  The show is happening Thursday February 28th at Hopmonk, in Sebastopol.  Show starts at 7pm, and the doors open at 6:30.  Tickets are $20 and this event will sell out so buy your tickets now.
The SanFrancisco Show
So you wanna know what the cherry on top of all this is??  Friday March 1st Club BellyDance will be in San Francisco at the Brava Theater Center.  FatChance BellyDance is organizing the first half of the show and they asked us to perform!!!!  This is an amazing honor and we are  thrilled and blown away by it.  So whether you live in Sonoma county or the San Francisco Bay area come and check out Club BellyDance and buy your tickets to watch WildCard BellyDance perform, not once, but twice!
Leave a Comment
:Belly Dance Super Stars, Club BellyDance, FatChanceBellyDance, Hopmonk, Performance, San Francisco, Tribal Style, Troupe, WildCard BellyDance
more...
by WildCard on Dec.31, 2012, under Performances
Join WildCard at Sea of Dreams LUNASEA on New Years Eve
at the The SF CONCOURSE EXHIBITION CENTER
635 8th St. San Francisco, CA 94103San Francisco CA
See the SODNYE Website for more
Featuring:
Shpongle's Quixotic Masquerade
The Glitch Mob (Exclusive DJ Set)
Trentemoller (Exclusive DJ Set)
Diego's Umbrella
Realistic Orchestra
Vau de Vire Society
Quixotic
Pumpkin
Robert DeLong
Christian Martin
Worthy
Mozaic
Little John
Digital Honey
AntAcid
Dax
Plaza De Funk
Syd Gris
Motion Potion
Dex Stakker
Dulce Vita
Cosmic Selector
DJ Brian Williams
Outersect/ Rob Rayle
DJ Feral
CirQularious! – Circus/ Performance/ Spectacle
Fractal Forest
Attractions Plus..
The Honeycomb Co:Laboratory
Leave a Comment
:New Years Eve, Performing, San Francisco, Sea of Dreams
more...